Helsinki Design Week is looking for an installation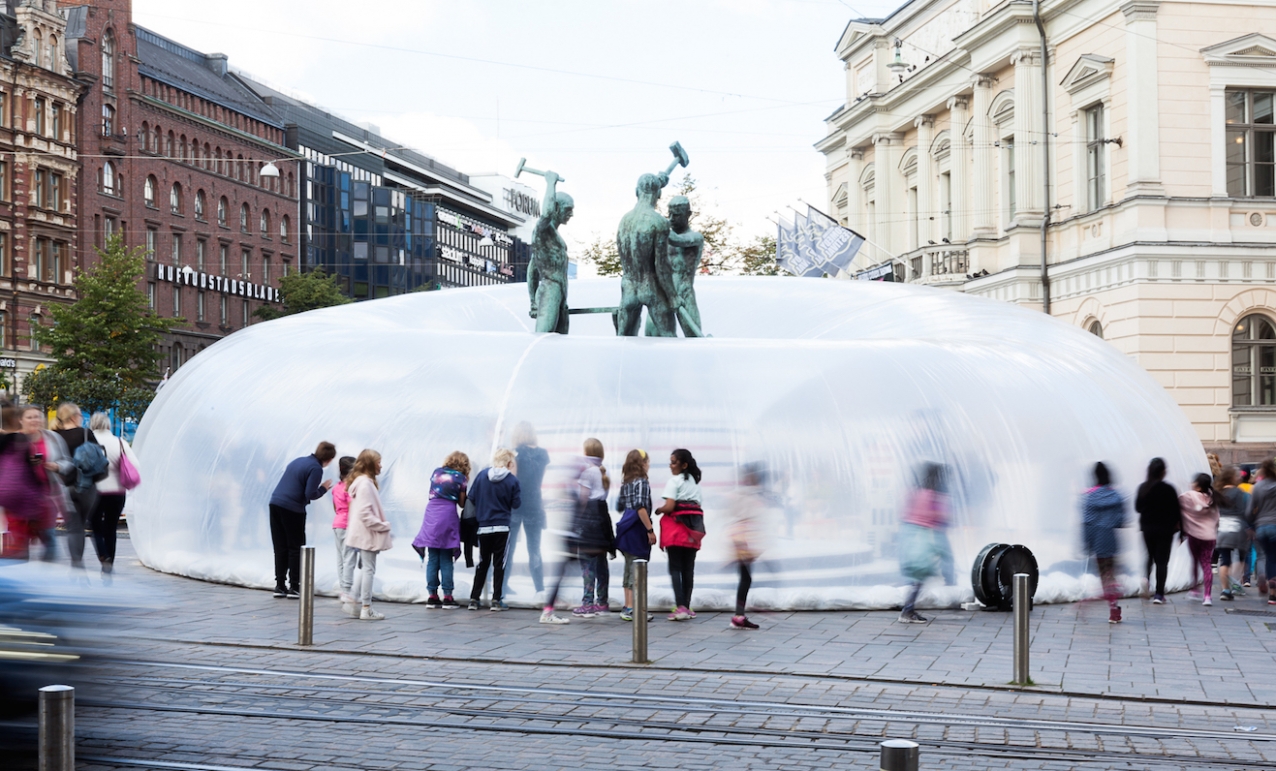 Designer, would you like to create an installation in the very centre of Helsinki? Helsinki Design Week is looking for one to continue its series of HDW HOP urban installations.
Last year, Helsinki Design Week charmed Helsinki citizens with a giant bubble and other installations in the city centre. The series is to continue this year.
HDW HOP takes over the centre of Helsinki from 7 to 17 September 2017. Its theme is: The Developing City. The theme is to discuss the challenges of urbanization and to take a look at the shared city space from new angles. It strives to imprint how important design is in an urban environment.
Helsinki Design Week is an urban festival open to everybody and carried out annually by hundreds of local designers, companies and communities.
Last year, talented designers and collectives created 12 temporary installations that attracted both the general public and international media. SuperKOLMEMEN by the Plastique Fantastique collective from Berlin made more than 30,000 citizens to visit the bubble around The Three Smiths statue in the centre of Helsinki. You can have a look at all 2016 installations here.
This year, Helsinki Design Week gives one designer or design team the opportunity to create an installation as a part of the HDW HOP series.
The selected proposal is granted the production budget provided by Helsinki Design Week according to its scope. Existing materials and partnerships are considered an advantage in the project.
The work to be built is selected by the Helsinki Design Week production team. When reviewing the applications, we'll pay special attention to the design's impressiveness and surprise factors as well as its way of addressing and highlighting the theme.
Proposal for an installation must meet the following criteria:
–Address the theme The Developing City from a desired angle
–Represent design, architecture, technological solution, sound design or a combination of these
–Located in square or street area in the centre of Helsinki. The maximum area for this work is 25 m2. Since it will be temporary, it cannot contain foundations. With this in mind, the design must consider the support structures, fixtures and safety. In addition, the placement must consider accessibility and maintaining pedestrian bypass where applicable.
Please create applications in PDF format including:
–Written description (max 1 A4 page) of the designer/team's earlier work, the design and its relation to the theme The Developing City
–Rendition(s) or sketch(es) of the design including preliminary technical solutions and fixing methods (max 2 A4 pages)
Please send application in zip format, maximum size 10 MB. Application language is Finnish or English.
To participate, please send a description and a sketch of the proposed installation by March 20 to Martina Wuoristo-Huhta martina.wuoristo@helsinkidesignweek.com. You can also ask for more information by phone +358 50 435 7813.
Topics