Time Machine: The seminar
8.9.9.2014
The National Museum of Finland, Mannerheimintie 34
9-16
Free entry, registration required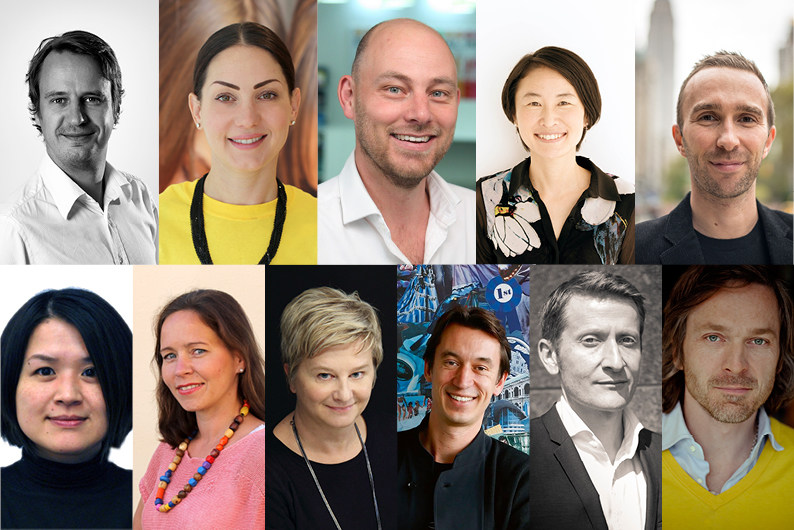 In 2015, Helsinki Design Week's theme is "Time Machine". The festival's main seminar focuses on design's potential to forecast, envision and make futures. The event will bring together leading designers, archi- tects, urbanists, scientists and technologists from Finland and abroad for an inspiring day of design-led travels in time.
Speakers include:
Jaana Beidler, associate professor for colour and material design at Aalto University
Brenton Caffin, director of innovation skills, NESTA
Chiaki Hayashi, co-founder and representative director of Loftwork
Heini Karppinen, COO of Mehackit
Bethany Koby, co-founder & CEO of Technology Will Save Us
Richard van der Laken, founder and director of What Design Can Do
Urban thinker and activator David van der Leer, executive director of the Van Alen Institute
Hui-Hsin Liao (NL), project leader, architect, MVRDV
Artist, technologist and philosopher Koert van Mensvoort, director of the Next Nature network
Antti Nousjoki, architect and partner, ALA Architects
Marco Steinberg, founder, Snowcone & Haystack.
The seminar is moderated by Christine de Baan and Hanna Harris.
NB. Even though mentioned in the print magazine, Kate Lydon and Michael Murphy are not part of the programme.
The event is open to both professionals and the general public. Free admission, registration required. Register here.
The seminar is organised by Helsinki Design Week in partnership with Design Driven City and Aalto University and supported by the Ministry for Foreign Affairs of Finland, the Embassy of the Kingdom of Netherlands,
the National Museum of Finland and Kanresta.
***
Schedule
9 Coffee and registration

9.30 Welcome: Hanna Harris, Helsinki Design Week & Laura Aalto, Design Driven City
9.45 Cities and Systems
Marco Steinberg (FI) Founder, Snowcone & Haystack
Brenton Caffin (UK) Director of innovation skills, NESTA
Chiaki Hayashi (JP) Co-founder and representative director, Loftwork
David van der Leer (US) Executive director, Van Alen Institute
Hui-Hsin Liao (NL) Project leader, architect, MVRDV
11.30 Lunch
13 Learning and Doing
Heini Karppinen (FI) COO, Mehackit
Bethany Koby (UK) Co-founder & CEO, Technology Will Save Us
Antti Nousjoki (FI) Architect and partner, ALA Architects
14.10 Coffee
14.30 Mind and Matter
Jaana Beidler (FI) Professor, colour and material design, Aalto University
Koert van Mensvoort (NL) Director, Next Nature network
Richard van der Laken (NL) Founder and director, What Design Can Do
Wrap up
16 Seminar ends
***

Speaker bios
JAANA BEIDLER (FI)
Program Head, Fashion and Collection Design, Professor of Color and Material Design, Aalto University
Jaana Beidler has recently returned back to her native Finland after twenty+ years design career in the United States where she provided design leadership/vision and lead color and material design teams at global, industry-leading brands, such as Nike, Patagonia and Esprit. Upon her return to Finland she held the position of Head of Color and Material Design for Nokia/Microsoft Smart Devices. Jaana joined Aalto University's School of Art, Design and Architecture as a Professor of Color and Material Design last academic year and since February 2015 has been the Head of the Fashion and Collection Design Program. The academic year of 2015/16 marks the start of a new focus in Color and Material Design at Aalto University.
www.arts.aalto.fi


BRENTON CAFFIN (UK)
Director Innovation Skills, NESTA
Brenton is Nesta's Director of Innovation Skills, leading Nesta's work to help people and organisations get better at innovating for the common good. Brenton is an innovative and strategic thinker and regularly presents to and advises national and global organisations, including UN agencies, on a wide range of issues relating to social and public sector innovation. He is an advisor to the Adelaide Festival of Ideas and former board member of the global Social Innovation Exchange and the Institute for Public Administration Australia. From 2009-2012, Brenton was the founding CEO of The Australian Centre for Social Innovation, and previously held executive positions with the South Australian Department of the Premier and Cabinet, Government Reform Commission and WorkCover. He began his career in the Australian Department of the Prime Minister and Cabinet, later consulting to Australian and British governments on public policy, performance improvement and change management. Brenton was also previously seconded to the Home Office Strategic Policy Team. Brenton has degrees in economics and international relations and a Master of Public Administration from Flinders University, where his research focused on public sector innovation.
www.nesta.org.uk


CHIAKI HAYASHI (JP)
Co-founder, Loftwork
Hayashi co-founded Loftwork Inc. in 2000 and currently serves as its representative director. Loftwork is a new style of creative agency that boasts a network of over 22,000 creators. Each year Loftwork rolls out over 560 projects including web, community, and spacial design initiatives. Loftwork also offers an open learning program for creative professionals and talent, OpenCU (Open Creative University), and operates the digital fabrication cafe, FabCafe. Hayashi pioneered the adoption of Project Management Body of Knowledge (PMBOK) guidelines in the creative industries in Japan, and has penned the book Web Project Management Standards. Hayashi is Japan Liaison to the director of MIT Media Lab, a member of the Good Design Awards Screening Committee, and a member of the Manufacturing Industry Subcommittee of METI's Industrial Structure Council Committee.
www.loftwork.jp


HEINI KARPPINEN (FI)
COO, Mehackit
Heini Karppinen, M.Ed. is the COO at Mehackit and is responsible for operations. Mehackit offers support to young people to discover creative technologies. Heini has years' of experience in future oriented consumer insight research, analytics, service design, consultation and workshops at 15/30 Research and Experian. She has studied education, psychology and leadership, and learning has always been a special interest for her. In her free time she enjoys being with her family, spending time in the nature, sailing and photography.
www.mehackit.org


BETHANY KOBY (UK)
Co-founder & CEO, Technology Will Save Us
Bethany Koby is a mom, CEO, designer, art director and artist interested in creating brands, businesses and experiences that help imaging a more positive and collaborative future. In 2011 Bethany co-founded Technology Will Save Us. As the CEO, she is responsible for its strategic growth, partnerships and balancing R&D projects with retail relationships and the all important educational agenda. Bethany's goal is to grow TWSU to create more impact with its products and services, while shaping a collaborative, creative, beautiful and fun business to work in.
Previously, she was a design director and social impact specialist at the international branding and innovation company Wolff Olins.
www.techwillsaveus.com


RICHARD VAN DER LAKEN (NL)
Richard van der Laken is initiator and director of What Design Can Do, an event on the impact of design that takes place in MAsterdam in May.
www.whatdesigncando.com


DAVID VAN DER LEER (US)
Executive Director, Van Alen Institute
David van der Leer is an urban thinker and activator, and the Executive Director of Van Alen Institute in New York City. Since arriving at Van Alen in 2013, he has conceived a new mission statement, developed a comprehensive fundraising framework, initiated engaging thematic programming, and launched a competition for a recently completed street-level space for the organization. He was previously Associate Curator, Architecture and Urban Studies and Curator, BMW Guggenheim Lab at the Solomon R. Guggenheim Museum.
www.vanalen.org


HUI-HSIN LIAO (NL)
Architect, project leader, MVRDV
Hui-Hsin Liao (Taipei, 1976) graduated from Berlage Institute with a Master in Architecture and has been working as Architect and Project Leader with MVRDV since 2005. Her experience covers a broad range of projects including research, exhibition, residential, museum, office and masterplan projects from competition to definitive design and is currently in charge of urban planning and building design projects in Taiwan and China. As project leader, Hui-Hsin has been involved in the ongoing research The Vertical Village since 2008, a project which investigates the rapid growth of East Asian cities and tries to offer a radical alternative to the standard block architecture. In collaboration with the JUT Foundation for Arts and Architecture, The Why Factory, Berlage Institute, and various leading universities in China and Taiwan, she has led the research, conducted workshops, exhibited the research in Taipei and Seoul, and conceived its comprehensive publication The Vertical Village (nai010 publishers, 2013).
www.mvrdv.nl
KOERT VAN MENSVOORT (NL)
Director, Next Nature network
Dr. Koert van Mensvoort (1974) is an artist, technologist and philosopher best known for his work on the philosophical concept of Next Nature, which revolves around the idea that our technological environment has become so complex, omnipresent and autonomous that it is best perceived as a nature of its own. It is his aim to better understand our co-evolutionary relationship with technology and help set out a track towards a future that is rewarding for both humankind and the planet at large. Among his works are the NANO Supermarket (a traveling exhibition disguised as a supermarket that that presents speculative future technologies) the Datafountain (an internet enabled water fountain connected to money currency rates), the book 'Next Nature: Nature changes along with us', the documentary 'Daddy! The Woods smell of Shampoo', the Fake for Real memory game (on the tensed relation between reality and simulation), the Rayfish Footwear project (about a fictional company that creates bio-customized sneakers from genetically engineered stingray leather) and the In Vitro Meat Cookbook (exploring the potential impact of lab grown meat on our food culture). Van Mensvoort directs the Next Nature Network in Amsterdam.
www.mensvoort.com
www.nextnature.net


ANTTI NOUSJOKI (FI)
Architect and founding partner, ALA Architects
Antti Nousjoki is an architect, a visiting professor at Columbia University in New York, and a founding partner of ALA Architects, a Helsinki-based firm. ALA has been one of the frontrunners of a new generation of Nordic architecture practices, and has completed several major public projects, including the Performing Arts Centre "Kilden" in Kristiansand, Norway (2012) and the renovation and expansion of Kuopio City Theatre (2014). They are currently designing the new central library in Helsinki amongst other high profile commissions.
www.ala.fi


MARCO STEINBERG (FI)
Founder, CEO, Snowcone & Haystack
Marco Steinberg is the founder of Snowcone and Haystack, a Helsinki based strategic design practice focused on helping governments and leaders innovate. Previously Steinberg was an Associate Professor at the Harvard Design School and founder and director of Strategic Design at the Finnish Innovation Fund, Sitra. He is currently the Chairman of the Board of the Finnish Museum of Architecture and sits on the board of Design Driven Cities. He is author on numerous books on design & innovation.
www.snowcone.fi