HDW HOP - City installations
5.9.—11.9.2016
Ympäri kaupunkia
The event is accessible for all
See the individual opening hours below
Free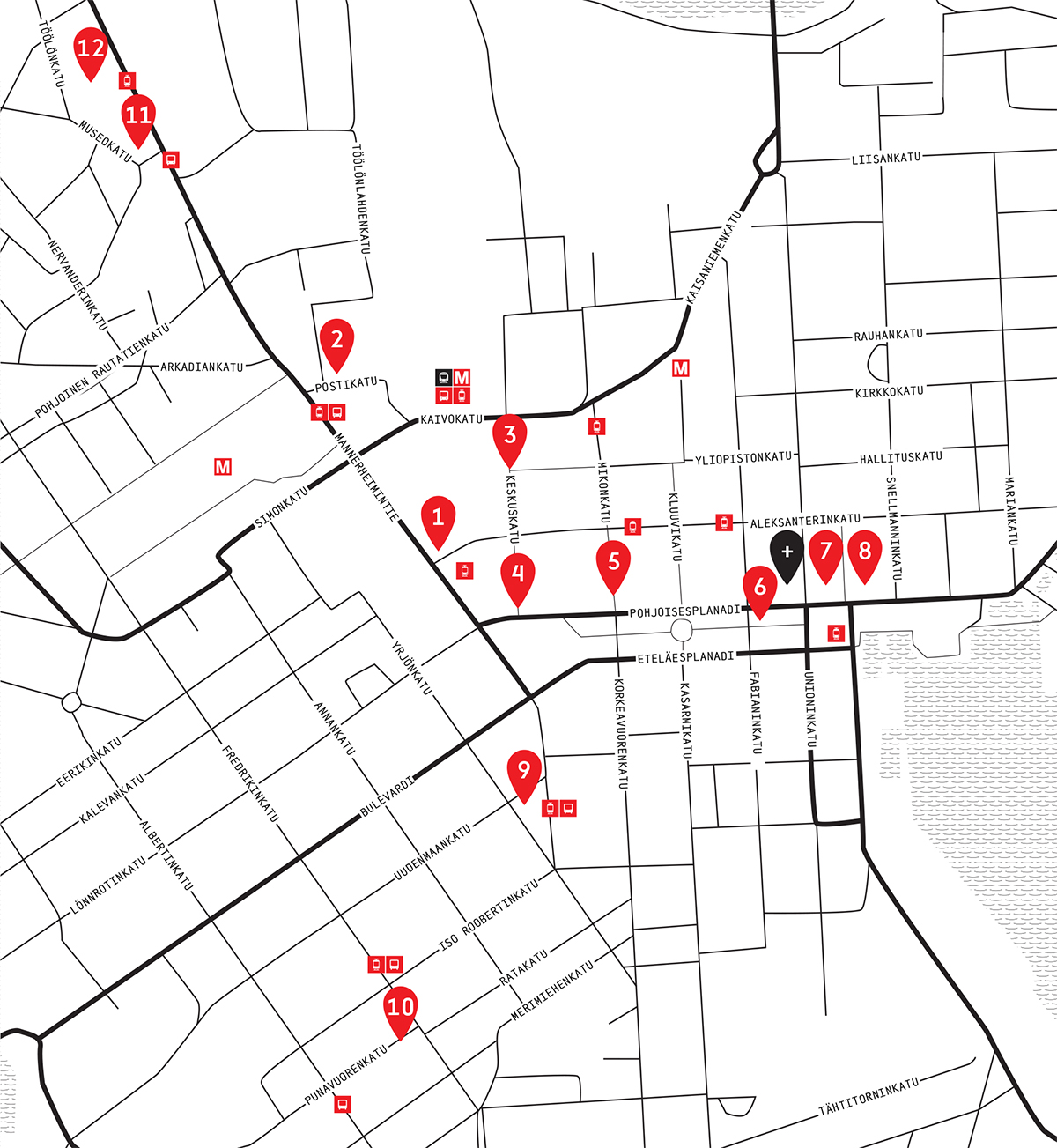 A never before seen series of city installations take over the city centre in September.
HDW HOP presents 12 works from individual designers, collectives and students. They include Finnish and international makers who have been given the freedom to brainstorm ways to regenerate the city with design.
The installations provide an opportunity to experience the city in surprising ways and encourage us to sense all aspects of familiar places. These temporary installations strive to imprint how important design is in an urban environment. Helsinki Design Week wants to bring design to the streets and in the parks where citizens hang out.
The biggest installation is a compressed-air installation by Berlin-based Plastique Fantastique around the statue The Three Smiths (Kolmen Sepän patsas), an iconic sculpture in the centre of Helsinki. Founded in Berlin in 1999, Plastique Fantastique is a platform for temporary architecture that experiments with the performative possibilities of urban environments. The installation welcomes everyone to its surreal space to meet, relax and share experiences. The changing daily programme offers different point of views on design, architecture and the city environment.
Take a city tour or expose yourself to design by checking out just one of the works!

HDW HOP City Installations

1. superKOLMEMEN
Plastique Fantastique
Kolmen Sepän Patsas, Kolmensepänaukio
Mon, Fri 8.30-22, Tue-Thu 8.30-20.30, Sat 10-22, Sun 10-20.30
2. Secret Statue
Johan Olin, Aamu Song, Aija Hannula & Roosa Melentjeff
Salakauppa, Postikatu 1
24h
3. Local Light - "Light close to you"
Anna van der Lei, Kristos Mavrostomos & LocalTapiola
Keskuskatu
24h
4. Helsinki Timepost
Joanna Rajkowska
Keskuskatu
24h
5. Marimekko Window
Marimekko
Mikonkatu 1
24h
6. Odd Birds
Iittala
6.-10.9.
Espan lava, Esplanadin puisto
Tue-Fri 11-19, Sat 11-17
7. Material Led Design
Aalto Arts
Unioninkatu 25
Mon-Sat 11-19, Sun 11-18
8. The Toy Bunch
G-REX
Torikorttelit, Bockin talon sisäpiha
24h
9. PEFC Wood Works x Justus K
Justus K. & PEFC
Dianapuisto / Kolmikulma, Erottajankatu 7
Mon-Thu 12-18, Fri-Sat 12-19, Sun 12-17
10. MODULE-R CAFE
Avarrus Architects
Fredrikintori
24h
11. Design Roots (cancelled)
Aalto Chemarts
Yard of the National Museum, Mannerheimintie 34
Mon-Sun 7-21
12. Sense.
Metropolia
Yard of the National Museum
Mannerheimintie 34
Mon-Sun 7-21
+ Urban Air Tools Helsinki
Aalto University & Plastique Fantastique
10.-11.9.
Unioninkatu 28 B, Inner courtyar