5.9.—6.9.2015
The Cable Factory, Tallberginkatu 1
Event is accessible for all
11-17
Free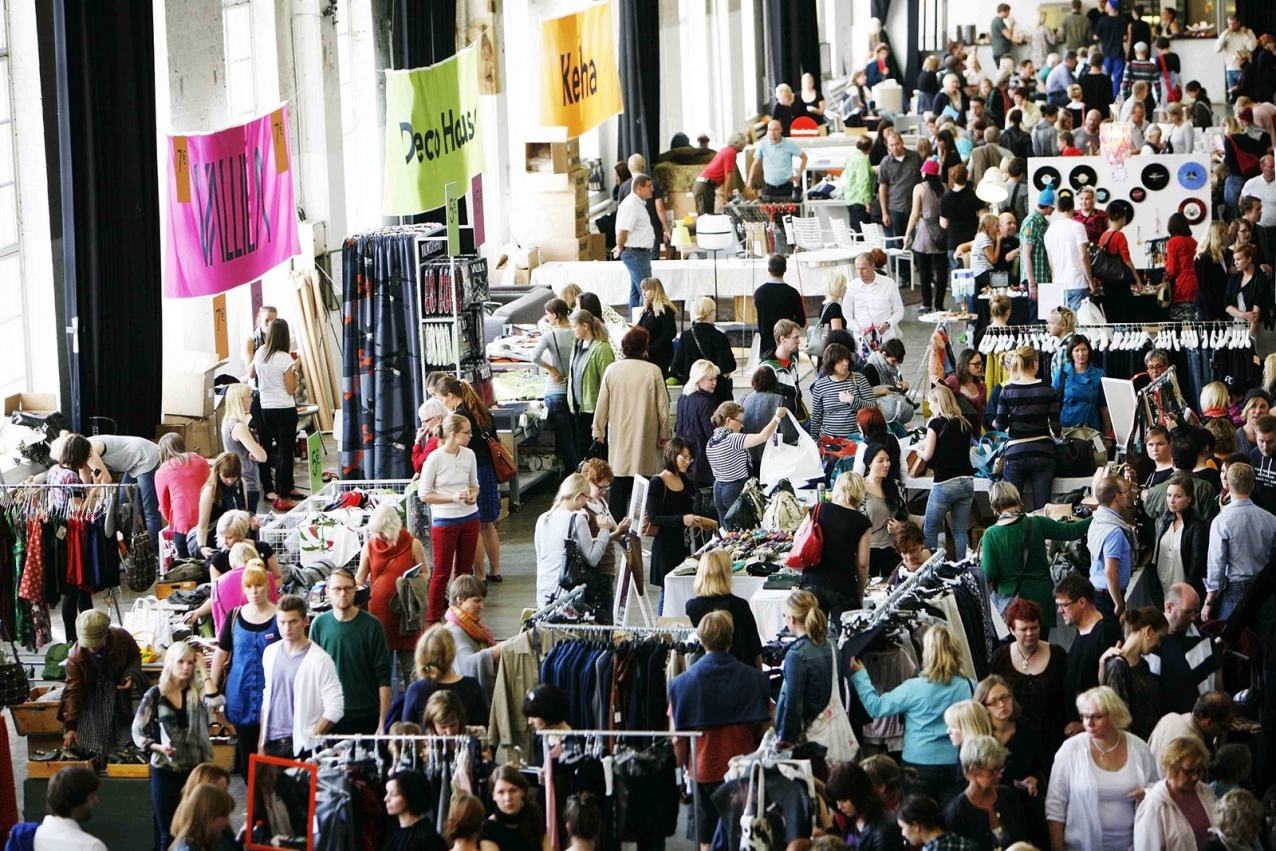 Design Market is the biggest design stock sale in the Nordic countries and without a doubt one of the most popular events on the Helsinki Design Week programme. Taking place at the Cable Factory, the event hosts a selection of furniture, interior products, clothes and accessories from nearly 200 handpicked design companies. This year the selection is completed with visiting designers from Estonia and Sweden. Helsinki Design Week also invites print material producers to sell their overstock in the new Print Market area, which will sell magazines, books, posters, postcards and office supplies. Vepsäläinen's design truck will be filled with great discounts on classical and new design furniture.
The Cubic Prism, a large cube-based textile installation by the Japanese designer Akane Moriyama will be soaring over the Cable Factory courtyard. The piece, which is part of the Japanese Design Revisited by Lexus exhibition, reacts to environmental factors offering a transient experience of shifting form, light and colors.
In addition to bargain hunting, Design Market welcomes visitors to enjoy its plentiful programme. Activities for the little ones will be available in the popular children's workshops by dance theatre Hurjaruuth, and AV-arkki will show short films in Merikaapelihalli's balcony.

The Metro tent, situated in the Cable Factory's inner courtyard, will offer a space to eat and relax. Cafés at the Cable Factory and food bikes situated at the courtyard will serve visitors throughout the event. Tallink Silja's competition offers you a chance to win a design cruise to Stockholm Furniture Fair.
Vendors at the Design Market
KASPERI
Pelago
Studio Eero Aarnio
Woodnotes
Adora
Choice & mllmtr
Vallila
Verso Design
Tikau
Mifuko
Kolme Design
Kotonadesign
Terraviiva
Tunto Design
COMMON & UUP
Living 24/7
Johtoi
Madebymemm
Hattulan Kaakelitehdas
MAYN
Kookygems
Nämä
handmade by KOTONA
THINK TODAY
PAJA
titiMadam
Forme
Escapist
OMAshop
Sagalaga Design
Tonfisk Design
Innolux
Vepsäläinen
Lähimuotoillut
Saana ja Olli
DESIGN OUTLET
My o My + THE MEN
Karhu
Kuula + Jylhä
R/H
2OR+BYYAT
Minna Parikka
Lumi
Teemu Järvi Illustrations
Catalina
Cilla's Folklore
Muotoiluhuone Tuokio
Designverstas Omana
KUI Design
Vitra Store Helsinki
Johanna Gullichsen
Lapuan Kankurit
Kuviokioski, HienoStella
Proloque Shop
MOIMOI Accessories
Studio Arto Halmetoja
Muumuru
Hile
PIRET-EVE KÄNDLER
&Bros
Jalo Helsinki
BEdesign
Bombotti
Papershop
Haldin
Asuna
Studio Panama
Maija Hurme Illustration
Kraa Kraa Eyewear
R-Collection
1kertaa2
Koolmat
gaa
Magisso
Lofthansa
Muoto 2
Vivero
Lundia
EMMA shop
Come To Finland
Kämmen
Himmee
Falbanka
VAJA Finland
Nikari
Muovo
Showroom Finland
Everyday Design
Secto Design
Mondaine
Made of Sundays
Tallink Silja
heijaa
Laser Cut Studio
Madesign
Costo / Pure Waste
KN Collection
Villawool
Globe Hope
SUPERYELLOW
Month of Sundays
vainio.seitsonen
aikainen lintu, Anna Matilainen Design, Kauneve
Miun
baja Clothing
Kliffa Fashion
Sokka Clothing
TAUKO
Poola Kataryna
Terhi Pölkki
LILLE
Paloni
Myssyfarmi
Tärähtäneet Ämmät
Alina Piu
Dusty Marjut Uotila
Plæka
Onemandband OMB
Knitworks
Ivana Helsinki
FRENN
Arela
Saint Vacant
Marita Huurinainen
gTie
Huhtadesign
KUDE
Moiko
Handmade by Micas
BLANKBLANK
MUKA VA ja Nouki
Uhana Design
Chao&Eero
Nomen Nescio
Second Chance
Insjö
Alpa Casual, Kaarna
Katariina Guthwert
Salmiak Studio, Susanna Nurminen Design
TUNDRA HATA
KIKE RIGU
Inni / Studio Smoo
Fredrikson
RCM Clothing
Eeva Lovisa
Pikkunorsu
Namia Design
PAPU
Stålhästen
Fabricfarm
Muru
Punainen Norsu
Mainio
Lillagunga
Metsola
Suomen Rahapaja
Liina Viira
Kelpman Textile
Piret Loog
Design: Monika Järg
Bold Tuesday
Print Market:
Markku Tanttu
Tiina Paju
Ainoa
Astra
MUU, Valokuvataiteilijoiden liitto
Huili
Khaos Publishing
Kiddo
Lillelle
Tiedekirja
Fyran
WAU Magazine
No Tofu Publishing
Napa Arts & Licensing Agency and Daada
3h + k
Beaufort Magazine
Erweko
AV-arkki
Food bikes
Cafe Pequeno
Carelian bike
Etiodog
Hodarifillari
Kahvila Kyyhky
Puurola
Kahvila
KUUMA
DJ
Sunnuntai Siskot